Spicy Chipotle Sweet Potato Soup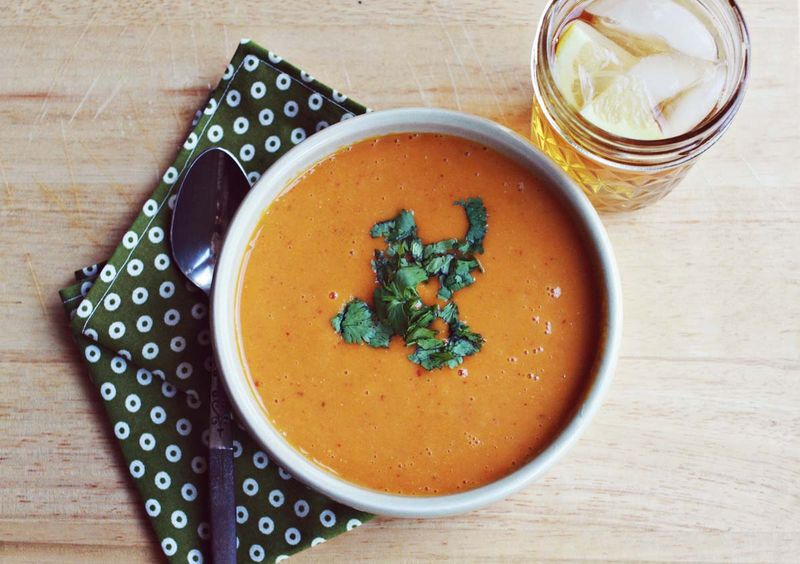 Ingredients:
3 tablespoons chipotle extra virgin olive oil, plus more for drizzling as garnish
1 yellow onion,
3 cloves minced garlic,
3 large sweet potatoes (or 4 if yours are on the small side)
1 chipotle peppers in adobo sauce, minced into a paste
2 – 2 ½ cups (16 -20 ounces) veggie or chicken stock, (you may need more depending on how thick or thin you like your soup)
sea salt and black pepper to taste
2-3 tablespoons fresh chopped cilantro, plus a few sprigs for garnish
Chop up the onion and potato into medium cubes and finely mince the garlic. In a medium size spot heat chipotle extra virgin olive oil over medium heat and saute the onion and garlic until onions begin to soften. Add the sweet potato, cilantro and chopped chipotle pepper. Saute for 10 minutes, stirring often. Add the stock, bring to a simmer, cover and turn the heat down to medium/low. There should be enough stock added to cover the potatoes entirely. Let this simmer for about 30 minutes or until potatoes are very tender. Puree in a blender to your desired thickness, you may add a more stock at this point to achieve your desired consistency. Serve hot with a drizzle of chipotle extra virgin olive oil, a sprig of cilantro and Garlic and Parmesan Crostini. (recipe below)
Easy Garlic and Parmesan Crostini
baguette
garlic extra virgin olive oil
sea salt and cracked black pepper
finely grated parmesan cheese
Slice baguette on a bias into ½ thick slices. Liberally drizzle with garlic extra virgin olive oil and season to taste with cracked pepper and sea salt. Top with shredded parmesan. Bake in 425 degree oven until golden and crisp, about 5 minutes. Serve along side soup and salads. Serves 4.